Demonstrated during the open house event was the latest Bobst Vision CI press, first unveiled at K2019 in Düsseldorf.
BOBST Bielefeld recently hosted an open house at its new Flexo Center of Excellence, providing delegates with an opportunity to experience the entire flexo process from start to finish. Making it fully comprehensive, the facility has been extended to include a prepress room, with a particular focus on Extended Colour Gamut (ECG) printing for wide-web CI flexo presses, while the presence of Bobst's industry partners ensures the integration of all elements that combine to give a flawless end-to-end process. 
'This is now the ultimate Center of Excellence,' declared Mark McInulty, MD of Bobst Bielefeld. 'It's an invaluable facility for testing and continuous development of the ECG process for Bobst and for our industry suppliers in our open-partnership system. It also helps our CI flexo printing customers to maximise the advantages derived from the implementation of the ECG process.'
The use of ECG is growing steadily. The process uses three additional ink colours – orange, green and violet (OGV) – in addition to the conventional colours of cyan, magenta, yellow and black (CMYK), enabling a match with 90%+ of the Pantone book, compared with approximately 60% previously. For converters, its adoption represents sizable economies in time and costs: no more ink changes resulting in washing of print decks; no need for a huge ink inventories for storing spot colours; no time wasted in ink mixing; and a guarantee of colour consistency for jobs that are run a long time apart or in different parts of the world.   
On show at the open house event was a Bobst Vision CI press. Unveiled last October at K2019, it's designed to deliver quality and efficiency for all production lengths on a wide range of substrates; and it features technical innovations and automation that ensure repeatable process consistency, minimum waste and easy manufacturing. Furthermore, it has a compact and ergonomic, modular design that ensures convenient, intuitive and fast operation.  
With sustainable operation a major concern of the packaging industry, the Vision CI features the exclusive smartHEAT technology that enables the press to use its own heat as an internal energy source. In addition, smartCLEAN saves on ink and solvents, while smartKEY and smartSET minimise job set-up time and material waste, maximising productivity.
Also on show was the Bobst Expert CI, an innovative flexo press that helps to maximise process consistency, making it a perfect fit for the requirements of the seven-colour ECG printing process. The press delivers stable and controlled printing results and exceptional productivity with both solvent- and water-based inks.
Visitors witnessed the Expert CI printing sustainable flexible pouches made from high barrier mono-material laminates, first revealed at K2019. 
Another novel feature is a digital inspection table: a quality control technology that incorporates digital projection for proofing purposes, while providing real-time visual representations to match product with digital proofs.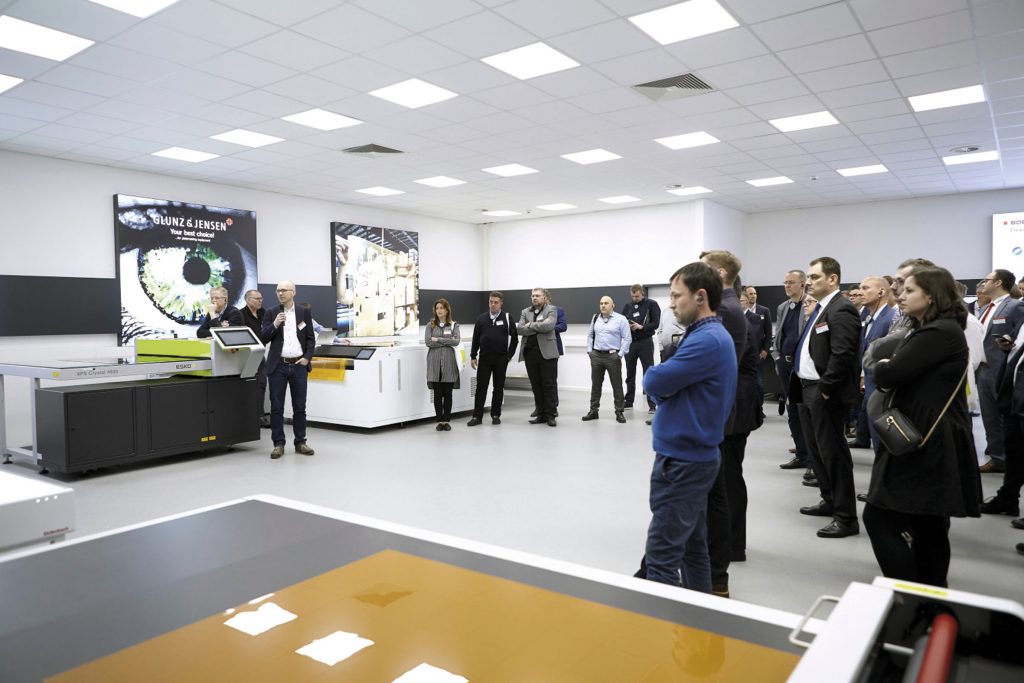 The prepress facility houses comprehensive platemaking technology from Bobst's partners, including a Kodak Flexcel NX system, a Flex-i-Pro platemaking system for large flexographic plates from Glunz & Jensen, and an Esko XPS Crystal 4835 exposure unit.
Partnerships for the perfect process
Open house visitors were able to experience the entire flexo process by talking to Bobst's partners on a variety of topics, starting from the prepress facility that houses the latest-generation equipment demonstrated during the event. 
These include Miraclon's Kodak Flexcel NX 4260 system for the production of Flexcel NXH plates; Glunz & Jensen's Flex-i-Pro 470 platemaker, hot air dryer and exposure unit for large flexographic plates (up to 1 200 x 1 530mm); and Esko's XPS Crystal 4835 exposure unit, a Kongsberg X20 cutting table and prepress software required to produce ECG print ready files.
Together with Bobst, Esko put the spotlight on the value created by their partnership, showing visitors how they can drive their businesses forward on the journey of digital transformation, whether in customer communication, prepress editing, workflow automation, colour management or business integration.
Other partners illustrated their technologies and knowledge within the framework of the harmonisation of all the elements that combine to achieve the best and most efficient results with ECG printing. 
Rossini's contribution to the ECG project are Starcoat Light sleeves, which offer exceptional dimensional stability and accuracy over time, and Fastbridge adapters, which offer superior absorption of vibration while allowing considerably faster print speeds; Lohmann presented the DuploFLEX5 range of plate mounting tape highlighting how the complex technology hidden in the 'thinnest' tool for the flexographic printing process helps to make ECG printing possible; Zecher discussed ways to optimise consistent and reproducible print quality through the help of an anilox; and Daetwyler presented the 
MDC-Gamutstar, a doctor blade specifically designed for the ECG process, delivering high precision and extended blade life for long runs and multiple jobs.
In addition, Flint Group enlightened visitors about the powerful possibilities of ECG printing as a game changer for flexible packaging in delivering greater adaptability, shorter lead times, higher quality and higher definition. Flint Group supports the ECG project with its FlexiPrint solvent-based inks that were used in the print demonstration on the Expert CI flexo press.
X-Rite Pantone's presentation focused on colour consistency control in ECG printing and how its industry-leading technologies, designed to streamline the digital colour workflow process, support packaging converters in profiling their press to get the most accurate fingerprint data. 
'Every partner we work with brings so much to the table in terms of innovation and optimising the flexo process,' said Mark McInulty. 'The open house is the perfect example of seamless collaboration in action – many companies coming together to combine their expertise and resources to create an optimised experience for customers.'
Flying the flag for South Africa at the launch event were Bruce Beswick and Riaan Hopley of Beswick Machinery, Bobst's local partner, along with some of the country's leading flexible packaging converters.
'The customers who joined us on this visit were very impressed with what they saw,' Bruce reports. 'The event also confirmed our recent statements that the Vision CI press is perfectly positioned for our market – it's compact, easy to operate and offers the best price performance ratio available today. We're very excited about future prospects for this press in the territories under our responsibility,' he sums up.