THE WPO (World Packaging Organisation) has named two recipients in the 'Lifetime Achievement' category of the 2020 WorldStar Awards: they are South Africa's Keith Pearson and Australia's Joe Foster (the latter, a native of Ireland, resided for many years in South Africa!).
'The Lifetime Achievement in Packaging Award acknowledges and rewards excellence in all aspects of packaging science, technology, design and application,' explains Pierre Pienaar, WPO president (incidentally, another South African now domiciled in Australia!).
'As the discipline of packaging is truly global,' Pierre continues, 'the WPO is in a unique position to identify leading practitioners from around the world who have consistently pushed the boundaries in advancing the art, science and application of packaging. These prestigious awards celebrate and preserve their achievements in perpetuity.'
Keith Pearson: a South African icon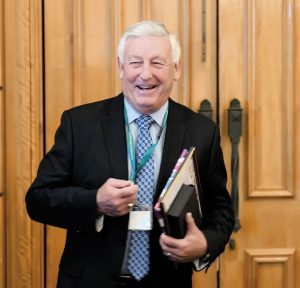 In 2018, at the culmination of an 18-year-long involvement in the WPO, Keith Pearson retired from his position as general secretary of the organisation.
Keith Pearson's activities within the South African packaging industry are legendary, both his dedication to the industry in general and to the Institute of Packaging SA (IPSA) in particular.
To start at the beginning, Keith's packaging career kicked off in 1970. He was first employed as an engineer at Kohler Corrugated and later transferred to Namibia to fill the role of production manager at Walvis Bay Containers. Throughout the following three decades, Keith continued to grow within the Kohler group – with his multifaceted experience covering the fields of corrugated, carton and print, cores and tubes and multiwall paper sacks – advancing finally to the position of divisional chief executive of Kohler Carton & Print. 
But aside from his success in the commercial world, Keith also shone as a member of IPSA, serving as a regional chairman and later as national chairman (2000-2004); he also chaired and was a member of IPSA's education committee.
During his time as national chairman, Keith represented IPSA on the WPO board, and this proved to be a powerful precursor to his subsequent long-term involvement in the organisation: he went on to become an integral member of the WPO leadership team for 18 years, including heading up the education committee before serving two terms as president (2006-2011) – the first WPO president from Africa – and finally as general secretary (2012-2018). 
Ever passionate in his leadership role, networking formed a vital component of Keith's modus operandi; he played an important role on the international packaging stage, helping to put the organisation more emphatically on the world map, thanks to high-profile programmes such as the WorldStar Awards, and the WorldStar Student Awards.
He also brought about greater brand recognition by establishing a marketing plan and a new website, and criss-crossing the globe to represent WPO at conferences and trade fairs. He also forged closer links between WPO and the International Packaging Press Organisation to ensure better understanding of WPO activities by ensuring a 'good press' in the world's leading packaging journals.
Keith was closely involved in packaging development throughout Africa, helping to create packaging institutes in Ghana, Nigeria and Tanzania, and ultimately the establishment of the African Packaging Organisation. 
More recently, further evidence of his passion for packaging education was unveiled when he travelled to Iran on three occasions to help establish the Iranian Institute of Packaging. 
In 2007, his achievements were recognised with South Africa's highest accolade, being named Packaging Achiever by the Packaging Council of South Africa (now Packaging SA). And at Pack Expo (Chicago) in 2018, the Packaging & Processing Hall of Fame welcomed South Africa's Keith Pearson as a member.
Joe Foster – inspired by goals
Spotted among 166 000 visitors tramping the aisles at interpack 2011 were two ex South Africans now living 'down under' … Pierre Pienaar, a previous national chairman of IPSA, now an independent packaging consultant, president of the Australian Institute of Packaging, and president of the WPO, and Joe Foster, MD of Foster Packaging. The latter, having established successful businesses in South Africa, Kenya and Ireland, relocated to Australia in 2010 where his business ventures have been outstanding success stories.
In 1998, when Joe Foster embarked on an ambitious venture to establish his own packaging business, he told me: 'It will be very successful and the name Foster will be big in South Africa and internationally.' 
How gratifying it is to confirm that his bullish prediction was correct!  
Some might quip 'it's the luck of the Irish', but Joe Foster doesn't buy that. His view is more prosaic. 'If you want more luck, you have to take more chances, be more active, show up more often,' he maintains.
Joe's involvement in packaging started when he was 16; and he was just 20 when he moved from his native Ireland to Zimbabwe, where he was involved in engineering and production at a packaging plant, which led to production and sales positions at Kohler Flexible Packaging. Aged 34, he left Kohler and set about fulfilling his dream of 'flying solo' by the time he was 35. 
Indeed, it was his 'can-do', self-assured attitude – putting a deadline to a dream – that saw Foster Packaging evolve from a humble office in Joe's Cape Town home to a well-respected global player, now Omniverse Foster, operating from Australian headquarters.
'Ownership', 'responsibility' and 'service' are the rocks on which his business success has been built. 'My approach has been to take ownership, to take responsibility for the products I sell,' says Joe.
The early inclusion of the word 'International' in the company's name was also prophetic. From the beginning, Joe's extended horizons and broad perspectives saw him seeking out partners in South Africa and around the world who could provide cost-effective, high-quality alternative packaging formats. And over the years he made concerted efforts to keep Foster International Packaging at the forefront of the global market, for instance taking part in any number 
of trade shows, both in South Africa and abroad. 
In 2002, Joe relocated to Dublin to better manage this global expansion, and then in 2010 he moved again – this time to Australia, where he established Foster Packaging Australia, among other things breaking new ground by offering digital printing for short-run flexible packaging. 
Then, in 2016, came the merger between Foster Packaging (both the South African and Australian operations), and Australia's Omniverse, resulting in the Omniverse Foster Packaging Group. 
A wise man once said: 'Goals. There's no telling what you can do when you're inspired by them; there's no telling what you can do when you believe in them; there's no telling what will happen when you act upon them.' That sentiment seems perfectly apt for Joe Foster.
So, on behalf of the entire South African industry, the PPM team says 'cheers' to these two men, whose commitment and vision has caused the South African and Australian flags to fly high on the international packaging stage. They will be recognised at the WorldStar Awards ceremony taking place in Düsseldorf during interpack 2020.