Caption:  This clever, self-standing pouch for cake icing, developed by Pouch Dynamics for Paarman Foods, won the Packaging Communication Trophy (sponsored by PACKAGiNG & PRINT MEDIA) in the 2009 Gold Pack Awards. It's one of three Gold Pack accolades the company has garnered, and but one of many more it intends to win.
ENTREPRENEURSHIP is in Heinz Pospech's blood: 'I've always been a smous – even from a young age, I was always looking for possibilities to sell something and make money!' he laughs. 'My father told me, "You have arms, legs and a brain, now go out and use them!" I've certainly enjoyed some lucky breaks, but Pouch Dynamics today is really the result of a decade of damned hard work.'
This drive and ambition saw Heinz quit the corporate packaging world at a young 34 and set about establishing his own company
and fortune. With a background in the flexibles arena, it was in making pouches that Heinz believed he could carve a profitable business for himself.
The first step in realising his dream began with finding an Iverslee pouch-making machine, lying in mothballs, discarded and disused. 'Luckily, I found the right engineer to bring the Iverslee back to life. It just needed some TLC as well as an electronic refit and six months later, on January 15, 2000, the first three-sided pouch came off the line at our very modest 75m2 factory,' he recalls. Today it's one of six lines at Pouch Dynamic's current home, a purpose-built, 1 500m2 facility in Capricorn Park, Muizenberg, and, over 100 million bags later, it's still at work five days week, day and night.
Caption: Heinz Pospech, Shirley Miles and Cliff Augustyn – Pouch Dynamics' three shareholders and directors.
It was initially touch and go for the newborn company, but after securing work from some national companies, the business started to grow especially in the biltong, window putty and fresh produce markets. This was nutrition enough to energise a move to a larger factory in Retreat in 2003, complete with line number two, a second-hand Nishibee pouch-maker. This machine opened up Heinz's scope to make bigger bags, especially black/gold/silver backed bags with clear fronts for the processed meat industry, creating a wealth of expansion opportunities.
His business now a healthy, hungry toddler, Heinz took the plunge to invest in a new HCI pouch-making machine from Taiwan. 'As things progressed, I had to change my horizons. It was becoming apparent that life in commodity pouch-making would be short-lived,' says Heinz. 'It's over-traded locally and there are plenty of imports. So, I had to ask the hard questions of who we were trying to please, at what cost, and were we willing to sacrifice losing customers to win customers. I'm not interested in a pricing "bun fight", so I swung our focus to innovation and novelty, to doing things no-one else was doing in South Africa.'
The HCI purchase saw Pouch Dynamics become the first converter in the country to make quad-sealed bags. This move fundamentally shifted the company's status from mere pumper of everyday pouches to a player that could offer notable, value-added innovation to the market. Recipient of a Gold Pack award in 2007, these bags are made from a single web with all four panels in register and with only one critical seal. Compared to traditional side-gusseted bags, these quad bags offer production and material cost efficiencies, excellent stability and striking shelf appearance. They have been a particular hit for ground coffee, dried fruit and pet food. An added bonus is that this design is very flexible, even permitting heavy-duty bulk bags – up to 20+kg – with the same advantages.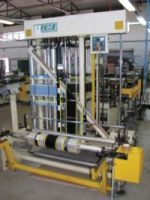 After moving into the new factory in Capricorn Park in 2006, a second HCI machine was purchased and Pouch Dynamics entered the stand-up bag market. This machine allowed the production of standing bags with many outstanding features. Made from a single web, the bag rests flat on its bottom, supported by the product, and not on a sealed rim, which tends to fold in and gives an untidy impression on the shelf. This flat bottom also allows for significant material downgauging and cost savings. A further advantage of the single web is that the base of the bag can be printed to register with the front and back, a major plus for any brand manager.
A year after moving into the new factory, two important arrivals crossed Pouch Dynamics' portal in the form of a third HCI machine and one Cliff Augustyn, a man highly-experienced in packaging production and design. Now a director and shareholder of the company, Cliff, says Heinz, has streamlined production efficiencies and quality controls and is an invaluable part of Pouch Dynamics' IP. 'We could no longer function as a one-man business.
Caption: One of three HCI pouch-makers in the Pouch Dynamics factory. They are about to be augmented by technology for the automated production of pouches with spouts, a first for SA and likely to boost the cost-effectiveness and availability of these great convenience packs.
Cliff has fantastic knowledge and experience and his know-how has been key in building our packaging creativity. Through his efforts, too, we now match BRC and ISO 9000 standards – we offer our customers all the safety and traceability parameters demanded for food-grade packaging.'
Soon after Cliff's joining, the two additional HCI lines significantly boosted Pouch Dynamics' capabilities, most notably as they have both been retrofitted with specialist technology to transversally apply zippers across its range of bags and pouches, enabling it to offer customers this touch of added value that is now a virtual prerequisite for this type of pack. 'Consumers want nothing less; today they expect pouches to be resealable. This is particularly appreciated with larger bulk bags, for pet food and the like, as it eliminates the need for decanting and keep the contents fresh and dry,' notes Heinz.
An innovator in a crowded market
As the business has evolved, Pouch Dynamics sees itself today as a well-established, low-cost, nimble manufacturer of top-quality bags and pouches, and one that's happy to deal with large and small runs and to cope with short lead times. 'We're agile, we're quick, we're creative – we like to get things done. We jump through hoops and push down barriers – it's a reputation that's serving us well and has been integral to building our brand and name in the market,' remarks Heinz.
This standing has seen Pouch Dynamics grow a large customer list and develop valued partnerships as a co-manufacturer for some of the country's biggest flexible converters.
'We complement the services offered by traditional flexible packaging printers rather than competing head-on,' he maintains. 'We stick to our core business – bag and pouch making. We don't extrude, laminate or print material. We're a focused business unit with a low-cost structure, the benefits of which are passed on to our customers in terms of service, technology and price.'
In the past 18 months or so, Pouch Dynamics has expanded its repertoire even further, launching shaped pouches and retort pouches on to the market, and there's more to come. 'Early this year we will be commissioning a sophisticated pouch-maker that will operate in tandem with a spout-inserting machine, débuting in South Africa the first automated – and cost-effective – means to produce these ever-popular convenience packs,' Heinz reveals.
'Spouts on pouches offer so many application possibilities, but they're either imported or produced manually and the costs involved have seen them stuck in a tiny niche for premium products. They just haven't been able to compete with a PET bottle and closure,' says Heinz. 'But this brilliant format will soon be available at a cost-effective price point – we're very excited at the prospects and are in the process of signing up a major deal for a great new product launch.'
Another plan for 2010 is the installation of a self-adhesive label applicator. 'We have a lot of demand for this, especially from smaller manufacturers who can't afford a labeller and have to resort to manual application. It's a natural add-on to what we offer and we expect good uptake of this service,' Heinz comments.
Indeed, it is a very bullish team that's taking Pouch Dynamics into its second decade, notwithstanding recessionary times. With the right production capabilities now in place, the management team was recently boosted with the hiring last October of Chester Barnes as sales manager. 'There's only so much that two people can do. Lack of hours in a day means this has been an area needing renewed attention – and we're confident that Chester will do justice to our existing and potential customer base,' says Heinz.
From zero base ten year's ago, Pouch Dynamics now employs 49 people and puts out over six million packs/month. Thus far, not a bad entrepreneurial story – and you can bet there are still many more chapters waiting to unfold.
Pouch Dynamics
T +27 021 7090375
www.pouchdynamics.co.za