From its original 200m² premises in Durban's Umgeni Road and a staff complement of four, Ferroprint now occupies 5 800m² in Shepstone Road, New Germany, and employs some 170 people.
Here a recent revamp has resulted in tastefully-appointed reception and meeting areas where customers and other guests are treated to traditional Ferroprint hospitality.
And the company's production technology has also come a long way. From the original ticket printing activities, today's product line-up includes world-class self-adhesive labels, shrink sleeve labels, swing tags, and a growing business in variable data printing.
Despite the company's phenomenal growth, however, the Ferrow family name lives proudly on, with two of the founders' sons on today's board of directors – Jeremy Ferrow (MD) and Dave Ferrow (sales and marketing director).
Other shareholders of this progressive company are Brian Lewis (financial manager), Chris Singh (operations director) and Devin Galtrey (sales manager).
Apart from the shareholders, key executives are Samantha Anderson (divisional manager), Malcolm Penn (divisional manager), Viks Premlall (QC executive), Thaeer Shaik (QA manager), Ronetta Birkett (prepress manager) Jessica Munsami (internal sales manager) and Vanessa Driman (key accounts manager).
As well as its flagship operation in Durban, Ferroprint maintains offices around the country providing sales and services at a local level. Key managers at  these offices are Jocelyn Munsami (Johannesburg regional manager), Dave Parsons (Cape Town regional manager) and Nadine Snelling (Eastern Cape regional manager).
The following pages tell the story in greater detail.
Happy Birthday Ferroprint
IT'S not surprising that the Ferroprint team is bursting with pride … there are few other South African label printers who can boast such a long and illustrious history.
Back in 1979, Denis and Eve Ferrow bought two Pautzer ticket machines and embarked on a new career. Now, 30 years later, their entrepreneurial spirit lives on and their 'no-such-word-as-can't' philosophy continues to prevail.
Caption: Smiling faces as Ferroprint's management and staff celebrate 30 years of excellences. Bearing testimony to the company's family ethos is the fact that many of these staff members have clocked up more than 25 years' service with the company.
It's this attitude, reckons Jeremy Ferrow, son of the founders, and today's patriarch, that has made Ferroprint what it is today – the largest converter of pressure-sensitive material in Africa.
In addition to its amazing local growth, Ferroprint recently joined the ranks of global players, with the establishment of its own factory in China, equipped with a brand-new Nilpeter FB3300 press and two Nipson digital presses. Its purpose is to print swing tickets for the clothing industry.
Despite international growth, however, Ferroprint remains first and foremost a family business. These family members are not necessarily genetically related (although many are!) but, says Jeremy, are bound by a common goal of service excellence and notable camaraderie.
Bearing further testimony to this family ethos is the fact that numerous staff members have over 25 years' service with the company.
And in true family spirit, Ferroprint celebrated its 30th anniversary by staging a soccer day for all Ferroprint staff, the company's primary suppliers, and all their families.
Empowerment – more than mere lip service
WHILE Ferroprint's strategy of aggressive investment is no small contributor to the company's growth, buoyancy and success, its sights are set on even brighter horizons beyond this 30th anniversary year.
Just one example is Ferroprint's empowerment initiative which the shareholders, directors and management believe place the company in an advantageous position for state tendering processes, and also help to secure business with multinationals – both of which are crucial markets for a company with such substantial capacity and growth potential.
Political and socio-economic developments have seen South African industries challenged to become more representative of the country's demographics; and Ferroprint counts among those companies that have taken up the challenge to empower previously-disadvantaged individuals – and has been remarkably successful
in this quest.
Ferroprint now proudly claims Level 5 (80%) compliance in terms of Section 9 of the Broad Based Black Empowerment Act, 2003, and is confident of attaining Level 4 in the near future.
 From Tickets and tags to flexo excellence
AS a family business, Ferroprint continues to follow the principles of its founding partners – the delivery of top-quality products, a commitment to service and, above all, a passion for printing.
When Ferroprint was established as a small business to keep Denis and Eve Ferrow occupied after retiring from their farm in the Drakensberg, the intrepid pair approached the new undertaking with the same degree of passion that had characterised their farming activities; and were soon printing their first jobs for some top companies, including Sasko, Pleasureland, Union Flour Mills, Walton's Stationery and Premier Milling. Specialising in printing tickets – roll tickets, movie tickets, admission and token tickets – they quickly established a reputation for quality and service.
Caption: Ideally suited to the self-adhesive labelling market, Ferroprint's armoury of Danish-built Nilpeter presses are designed to provide extremely high-quality printing on a wide range of substrates.
This not only won the company a major share of the market, but also paved the way into more specialised printing fields. When, a year later, they bought their first tag machine the scene was set, and marked the start of Ferroprint's meteoric rise to count among South Africa's top printing businesses.
Undoubtedly, the highlight has been the company's foothold in the exacting field of flexographic printing and there's no disputing the fact that Ferroprint has played a key role in setting the pace in South Africa for this highly specialised technology.
And this is really the company's passion – perfection in flexographic printing.
Today, Ferroprint's beautifully-printed labels are seen on packs in the dairy and pharmaceutical industries, on food and beverage products, on personal care products, and on detergents, household cleaners and lubricants, among many others.
Flexographic printing comprises about 95% of Ferroprint's business reckons Jeremy Ferrow, who has seen considerable progress in the development of the local flexographic market over the years since Ferroprint bought its very first Nilpeter press some 16 years ago.
In the intervening years, Ferroprint has followed a strategy of continual investment in state-of-the-art equipment and facilities.
Ferroprint is a visionary, cutting-edge company, constantly forcing its business partners to think ahead and deliver accordingly. This is tough and challenging, but rewarding, and helps to keep Nilpeter sharp in technology and solution development. Ferroprint's management and employees have built long-term relationships over the years, reinforcing Nilpeter's "People to People" business concept. Over the last 16 years, whenever Nilpeter has launched a new press, Ferroprint has been either the first, or one of the first, users to benefit from these innovations, bringing growth opportunities to both companies.
Jesper Jorgensen, Nilpeter, Denmark
Impressive Nipeter line-up
ENSURING top quality self-adhesive labels is the prime concern of everybody at Ferroprint. It's not surprising to learn therefore that the company's formidable line-up of Nilpeter presses includes the very latest servo-driven technology.
It was five years ago that Ferroprint became South Africa's first owner of a Nilpeter servo-driven FA3300 flexographic press, launched at Labelexpo in Brussels at the end of 2003.
Caption: This wraparound film for Pick n Pay's range of convenience meals was picked out as a winner in this year's FTASA Print Excellence Awards.
Now, among the ten Nilpeter presses on the printshop floor in Durban, and one at the Chinese subsidiary, five are servo-driven FA3300 presses. Of these, four are eight-colour UV presses, featuring silkscreen heads as well as cold foiling and in-line lamination stations; and equipped with rotary die and flatbed stations. Another is a nine-colour UV press equipped with a turnover bar, lamination and cold foiling units, as well as delamination and relamination facilities – all in-line. This press also has three rotary die stations and one flatbed station, as well as an in-line 'Peel & Read' system to manufacture booklet-type labels.
Another of the FA3300 presses is equipped as an eight-colour UV press with three rotary die stations and can run self-adhesive material or 28µm unsupported film.
Four more Nilpeter lines – FA2400 flexo presses – offer various capabilities, from four- to eight-colour printing, using UV or water-based inks, with in-line lamination, double printing lamination, silkscreen and hot foil stations, and equipped with rotary and flatbed die stations.
The flagships of the Ferroprint printing armada have to be the impressive FA4 and FA6 presses – eight- and nine-colour flexographic multi-substrate presses. Ideally suited to printing both self-adhesive labels and unsupported film, these Danish-built presses are designed to provide extremely high-quality printing on a wide range of substrates.
With their auto-register print sleeve features and minimal set-up times, these servo-driven presses have increased production rates significantly, enhancing productivity levels, while press operators enjoy their ease of operation.  But for customers, the most important aspect of all is the quality printing achieved – not a gear mark in sight!
According to Del Wiggill, dubbed 'Mr Nilpeter South Africa', his Danish principals have invested in the right level of continuous R&D to ensure that valued customers such as Ferroprint become partners and friends. This is cemented by ongoing training of machine operators at the print school in Denmark to ensure the highest level of satisfaction for both Ferroprint and Ferroprint's customers.
But the list of hardware doesn't stop with the Nilpeters. They are complemented by four locally-built Pacom presses and three Flexodiecutters.
Accent on flexo education
FERROPRINT's press operators regularly travel to Denmark to be trained on the Nilpeter presses. But that's only one aspect of training at Ferroprint.
'We encourage our press operators to undertake both practical and theoretical training,' Jeremy Ferrow explains. 'They are enrolled in various courses – for instance the National Diploma in Roll & Label, as well as distance learning courses through PIFSA's training facilities.
Ferroprint has also devised its own specialised print process manual that is used to train staff on every procedure to be followed.
With this strong emphasis on printing high-quality flexographic printing, it's not surprising to learn that Ferroprint is a member of the FTASA (the Flexographic Technical Association of South Africa), and has received several citations in its Print Excellence Awards. The FTASA's purpose is to increase the technical knowledge and skills of people involved in the flexographic printing industry, working closely with similar overseas associations.
Going big in China
IN October 2009 Ferroprint officially launched its brand new printing facility in China. Specialising in printing variable data on a wide range of materials, this wholly-owned subsidiary focuses on producing swing-tags and self-adhesive labels for the retail garment industry.
'We have had our sights on China for some time,' comments Jeremy Ferrow. 'We realised that to be a world player we needed a presence in China. This Chinese subsidiary enhances our value proposition to existing customers while opening doors to the international market,' he adds.
Caption: After spearheading the establishment of the Chinese operation, Wayne Richmond was appointed as Ferroprint Suzhou's general manager.
Ferroprint's impressive US$3-million investment has resulted in a 2 000m2 facility some 80km outside Shanghai. It's located in Suzhou Industrial Park, a 15-year-old China-Singapore industrial development that has attracted multinationals of the stature of Bosch, Samsung, Kraft and Johnson & Johnson.
Ferroprint is certainly mixing with the big players. Indeed 'think big' is another of Ferroprint's mantras and certainly in this instance the shareholders did exactly that.
'There were three possible business structures, each with varying degrees of risk and control,' explains Brian Lewis, group financial manager.
'We decided to go all the way and set up a WOFE (wholly-owned foreign enterprise). Although the most onerous of the options, it's the one that ensures full control,' he adds.
Known as Ferroprint Suzhou, the company boasts a brand-new nine-colour Nilpeter FB3300 press as well as two state-of-the-art Nipson VaryPress digital presses; and in charge of this impressive operation is Wayne Richmond, Ferroprint Suzhou's general manager.
Its establishment took a dedicated team two years to complete. 'This was about 18 months beyond our initial expectations,' comments Wayne, who spearheaded the team before taking up the GM's role.
There were numerous reasons for delays. Aside from language difficulties (getting around by taxi is impossible without hotel-issued flash cards or a basic command of Mandarin), the team quickly discovered that initial due diligence efforts were unreliable.
Setting up any business in China requires a series of operating licences issued by various institutions, each with its own set of rules and prerequisites. In order to keep tight control over propaganda, the Chinese government places especially stringent requirements on companies seeking printing licences.
'We were informed it would take around five weeks to get our printing licence,' Wayne recounts, 'but nobody mentioned that there are at least three different levels of Printing Bureaus. We received our final licence from the federal Printing Bureau in Beijing 19 months after submitting our application.'
However, set-backs and challenges now overcome, the facility is finally operative. 'It's been a long haul but has been a rewarding experience,' says Wayne happily.
He's convinced of Ferroprint's ability to compete on international markets. 'We offer a first-rate, cost-effective, GS1 barcode compliant product – and we're on the doorstep of the majority of the world's garment manufacturers – partnered by an experienced, sophisticated and systems-integrated distributor, located 10m from our dispatch – now that's a compelling value proposition!' he exclaims.
With a start-up staff complement of 12, the last few months have seen a focus on training and fine-tuning processes. 'We're now confident of taking on larger and more complicated jobs and look forward to increased sales volumes,' says Wayne.
With Ferroprint Suzhou's customer and strategic partner, TraderPlus, expecting to secure contracts from the Sears Group in the US and Marks & Spencer in the UK, it's clear that the next big challenge is going to be managing exponential growth.
But then 'big' is precisely what Ferroprint aims for.
To remain a market leader in any sector of industry a company needs to invest in technology, know-how, service and people. Ferroprint's decision to remain with Nilpeter as its supplier of choice testifies to this commitment to technology excellence. This is combined with continual investment in training programmes, both within the plant and at the Nilpeter training school in Denmark. Del Wiggill, Nilpeter, South Africa
Swing tags
STRONG growth is being experienced in the production of swing tags – of which Ferroprint produces a staggering 600-million a year.
The marketing of swing tags falls to a firm of consultants called TraderPlus. Key customers include Mr Price and Pep Stores to mention just two. And it's because of such key customers, whose garments are mainly sourced from China, that Ferroprint has set up its Chinese operation, to alleviate the problem (in fact, the complete impossibility) of importing the required swing tags and labels into China.
In earlier years, swing tags were printed sheet-fed offset litho by commercial printers, but Ferroprint and TraderPlus changed this scenario by printing swing tags roll-to-roll on a Nilpeter flexo press.
'With sheet-fed litho printing, there were as many as nine separate operations,' explains Jeremy Ferrow. 'It used to be a long, laborious process. However, by printing them roll-to-roll, we manage all processes in-line.'
He's also proud of another development – the elimination of the need for barcoded self-adhesive labels on the reverse of swing tags. This is because Ferroprint has the capacity to print variable data including barcodes and/or sequential numbering, thanks to its investment in Nipson laser printers – both in its Durban and Chinese operations.
As a key supplier to Ferroprint, UPM Raflatac congratulates the company on its 30 years of success in the South African label industry. For many years, Ferroprint has been at the forefront with label industry innovations as well as continuously updating its equipment, and this has resulted in the company being in the strong position it is today. Congratulations from the UPM Raflatac team. We look forward to another 30 years of achievements! Ricky Lazenby, national sales & marketing manager,  UPM Raflatac South Africa
More than just labels
FOR many years, 'Self-Adhesive Labels R Us' could have been an accurate pseudonym for Ferroprint. In recent years, however, the number and variety of products emerging from this dynamic enterprise has spiralled.
Caption: Resealable butterfly/peel & read labels.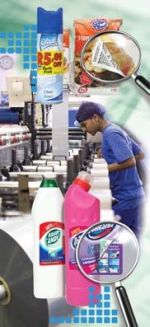 A quick review of the product line up includes specialised labels such as piggy-back and resealable labels, coupons and peel & read labels, as well as shrink sleeve labels, header cards, pack handles and swing tags.
Among recent introductions has been Ferroprint's printed handle label which can carry a product weighing up to 20kg. As the grip area is free of adhesive, it's comfortable, and, as it's soft, it can be adapted to a product's size. In addition, for promotional purposes, these label handles can be sequentially numbered, or printed using scratch-off ink, or any of the other special features offered by Ferroprint.
Also recently introduced are more specialised packaging products such as the innovative Ferro-Wrap (produced from 150µm polyester film, as a replacement for cartonboard sleeves for convenience foods). Printed yoghurt lidding film is yet another new product in the Ferroprint armoury.
The company's most recently-established division is producing blister packaging foils, printed in up to four colours.
'This fits in well with our pharmaceutical labelling business,' comments Jeremy Ferrow. 'It's been a challenging project and, as with any new product development, we've had some testing moments,' he quips.
'However, thanks to the team's determination and commitment, we're now successfully marketing printed blister foil.'
The aluminium foil is primed for printing on one side, while a heat seal lacquer is applied to the other side, suitable for sealing to PVC or PVDC.
Aluminium foil possesses a number of significant properties. It's hygienic, as it's sterilised during the annealing process. It's also corrosion-resistant, non-toxic and non-absorptive.
As it provides an excellent barrier to moisture, light, odours, oxygen and other gases, blister foil is mainly used in the pharmaceutical industry for tablet packs. However, it's also popular in the confectionery industry, for instance for chewing gum packs.
Triumph Cores has enjoyed a mutually beneficial business partnership with Ferroprint over the past 12 years. We have seen both companies grow and look forward to many more good years ahead. All of us at Triumph Cores would like to congratulate everybody at Ferroprint on their journey thus far and wish them all the best for the future.
Linda Aylward, Triumph Cores
Shrink sleeve excellence
FERROPRINT has a sound reputation as a pacesetter in the labelling market – not least when it comes to the ever-growing field of shrink labels. The company was among the first in South Africa to acquire a Karlville shrink sleeve converting line, placing it firmly among the frontrunners.
'Some years ago,' comments Jeremy Ferrow, 'we recognised the need to raise the bar in order to remain in the lead, and our shrink sleeve equipment has kept us at the cutting edge when it comes to the manufacture of full-bodied shrink sleeves.'
The Karlville line features high-speed seaming machines, plus a servo-controlled CUT 300 guillotining machine that produces individual sleeves for hand applications.
Caption: Ferroprint achieves stunning effects such as these foiled shrink labels for the upmarket Four Colours range of wines, and the holographic foiling on the Spar Sola pack.
Also included in the line-up is a Shrink Pro Ultra 2000 heat tunnel for in-house quality control and testing purposes, allowing Ferroprint to simulate customers' production facilities, ensuring that products leaving Ferroprint's facility are 100% correct. The heat tunnel can also be used by customers for 'contract packing' small batches for marketing trials, etc.
With such an impressive armoury, Ferroprint can supply customers with top-quality UV-printed shrink sleeves, offering full 360-degree graphics, decorating irregular shaped containers from top to bottom, enhancing shelf appeal, and providing tamper evidence. Among the many capabilities in this department is the use of foiling on shrink sleeves and the production of either matt or gloss shrink sleeves – all adding up to simply stunning effects.
About 25 years ago I came across a small, family-run business operating in Pinetown, where I met the Ferrow brothers for the first time. Over the years it has been amazing to see how our industry has developed and grown, and how Ferroprint has always seized the opportunities and grown with the industry. Congratulations guys! Paul Bouwer, director, Label & Printing Systems (Sarepco)
VIP on growth curve
WHAT started out as a small part of Ferroprint's business just a few years ago now counts among its fastest growing activities – variable data printing (VDP), such as sequential barcodes and consecutively numbered labels.
The accent in Ferroprint's Laser Department is on fast delivery – from the time data files are received from customers, jobs are turned around in just 48 hours.
Of course, data integrity is essential and this was the challenge that prompted Ferroprint to choose Nipson 7000 laser printers, which are proving to be highly suitable technology for this fast-growing business of VDP. Three such Nipson printers are now installed.
The Nipson 7000 printers give Ferroprint the flexibility to print on a variety of substrates, including paper, polyethylene, polypropylene and vinyl, without the need for expensive, time-consuming pretreatment. In addition, duplex jobs can be printed with a single print engine, ensuring integrity of critical information.
Caption: Customers' demands for secure printing can be met thanks to Ferroprint's investment in Nipson laser printers, allowing printing on a variety of substrates without the need for expensive, time-consuming pretreatment.
The Nipsons feature a high-energy flash fusing system that does not heat the printed substrate, allowing easy throughput of the heat-sensitive and/or self-adhesive materials used for barcode labels and swing tags.
As well as the VDP facilitated by the Nipson laser presses, Ferroprint offers in-line sequential numbering, sequential barcoding, or any other variable data, on its Nilpeter presses. Another important service for the pharmaceutical industry is the ability to print sequential numbers on to backing sheets for tracking purposes.
Prepress perfection
FERROPRINT's comprehensive prepress operation allows the company to be completely self-sufficient for all repro work.
Led by prepress manager, Ronetta Birkett, this department features a multi-task team, including DTP operators, quality controllers and platemakers. With their intimate knowledge of the entire printing process, these experts take any project flawlessly from concept to finished masterpiece.
'By keeping all steps under one roof, we ensure high quality and fast turnaround times,' Ronetta claims. 'Team work is as crucial as the detailed attention we give to each job that comes our way,' she continues. 'Every job is individually evaluated and assessed to achieve maximum print quality and customer satisfaction. We welcome any challenge.'
In this department, as elsewhere in Ferroprint's plant, the latest equipment and software has been installed – from G5 Apple Macs operating with Freehand MX and Creative Suite CS, all supported by a Panther X10 server, facilitating automatic daily backup and monthly archiving, to DVD facilities for off-site storage.
Providing additional confidence for customers is an Epson Stylus Pro 7000 inkjet printer for high-quality proofing, while an Epson Stylus Pro 4000 Chrome printer provides final proof to press.
In addition, allowing remote proofing facilities for customers, Ferroprint has invested in Screenproof software to run both Epson units.
Completing the impressive line-up are an Esko Spark 2530 computer-to-plate (CtP) unit that incorporates FM and AM screening; a Screen Katana 5055 imagesetter and processor unit used for positive/negative film output (although increasingly superseded by CtP technology); and Flint/BASF FIII washout and exposure units to ensure top-quality plate production (all equipment supplied by Kemtek Imaging Systems).
Caption: A multi-task team – including DTP operators, quality controllers and platemakers – ensures that Ferroprint is completely self-sufficient when it comes to prepress and repro work. These experts take any project flawlessly from concept to finished masterpiece. 
In addition to all this leading edge technology, Ferroprint's in-house silkscreen facility allows the company to produce those special effects so loved by brand owners – such as strong opaques, raised images, special varnishes and scratch-off inks.
Heraeus SA has been supplying Amba UV curing lamps to Ferroprint since 1999. We've established a long-term business relationship based on a shared commitment to quality, exceptional service and a mutual passion for what we do. Ferroprint accepts and expects only the best and the quality of the Amba UV curing lamp system has proved that Heraeus is a trustworthy and reliable company. We're delighted to be an industry partner and congratulate Jeremy and David Ferrow on the company's 30th anniversary. Danie Jansen van Vuuren, product manager, Heraeus SA
Strict Procedures
AS an ISO 9001:2000 accredited company, procedures at Ferroprint are stringently enforced at all levels.
Apart from commercial label production, pharmaceutical labels are of paramount importance to Ferroprint, and this industry requires stringent control measures, including a separate system for pharmaceutical label work.
Caption: Prepress manager, Ronetta Birkett, checks the output from the Flint/BASF FIII washout and exposure unit.
To ensure 'sensitivity' compliance for pharmaceutical repro work, each job has its own 'jacket' separating it and identifying it. Utmost care is taken when handling these 'sensitive' jobs; and demarcated work areas and specialised filing ensure that pharmaceutical labels cannot be 'contaminated' by any other work going through the prepress department.
An eye on quality
FERROPRINT's products find their way into a range of highly demanding sectors – including the dairy, pharma, cosmetics, food and beverage, retail, clothing, and many others. But diverse as they are, these customers have one thing in common – they demand uncompromising standards of quality and service.
Caption: Helping to maintain quality levels is a battery of Rotoflex inspection rewinders.
While the backbone of Ferroprint's business remains the production of self-adhesive labels, sales graphs for its other products – such as retail swing tickets, shrink sleeves and wraparound labels – are showing strong upward trends.
Faced with demanding customers, it's not surprising to learn that, apart from complying with the stringent requirements of ISO 9001:2000, ISO 14001, SANS 10330 (HACCP) and GS1, Ferroprint has taken a number of other measures to ensure consistent quality and accuracy.
One example is the company's in-house ink kitchen, professionally managed by Select Inks, which means that Ferroprint is assured of having exactly the right quality and quantity of ink available at exactly the right time for each job. This service goes far beyond simply supplying ink. Select Inks is responsible for staffing the ink kitchen, ensuring that a qualified technician is on duty for each shift to supervise operations. The ink mixing system is fully computerised, so that each container of ink supplied to a press conforms precisely to a customer's colour standards.
Another important component of the ink kitchen is a Rexon ink management system, which manages ink dispensing, stock, formula and database applications. It enables the operator to capture formulations ensuring colour consistency; formula remixes to simplify recycling of press returns; and improved ink stock control.
Additionally, the Rexon system (pictured below left) provides a job history (actual vs estimated consumption), job costing, as well as ink estimation software to minimise ink production and therefore ink returns and/or waste.
Yet another string to the quality control bow is the use of automated inspection processes, using advanced technology such as a Nikka Automatic Label Inspection System (ALIS) – a specialised image processor that detects any defect on a printed web – and Rotoflex VSI 330 inspection slitter rewinders fitted with Pro Vision I.
The Pro Vision I uses a multiple-fault, high-speed positioning feature to assist the operator with efficient correction. A variety of defects can be detected. When the machine stops, the defective label is positioned for correction and the defective areas graphically indicated.
In addition, a quick feedback mechanism instantly indicates a defect – whether it's a missing label, print defect, colour deviation or registration problem.
The benefits of such an automated system are numerous: less time is spent on inspection, so production speed is accelerated; less material is wasted so costs are reduced; and the quality of the final product is enhanced, ensuring customer satisfaction.
'We're impressed with the way the vision system meets our stringent demands,' comments Chris Singh, production director. 'Each label's integrity is critical and the Nikka gives us an exceptionally strong competitive advantage in today's tough market,' he adds.
Select Inks has enjoyed a close relationship with Ferroprint for the past ten years. Ferroprint sets very high standards and expects the same from suppliers, which enables Ferroprint to offer its customers world-class products of exceptional value. In addition to meeting these high standards, Select Inks assists in identifying innovative technologies which challenge the norms and add value to standard products. We're proud to have been a part of Ferroprint's significant growth and wish the directors and staff well as they move on towards the next milestone – 40 years! Peter Thomas, MD, Select Inks
Maximising Production, minimising waste
SOME 18 months ago, Ferroprint implemented a Production Efficiency & Raw Material Monitoring System, not only measuring but maximising production throughput. The dual aim was to improve manufacturing capacity and to help track and minimise waste.
'In a nutshell,' comments financial manager, Brian Lewis, 'the system monitors each print job from the time an order is placed to the point where finished labels or shrink sleeves are despatched to customers. The importance of the role that each department plays throughout the process is constantly stressed to all employees, and each department has access to a live feed of jobs in the system in order to track which jobs are running within their respective allocated parameters of time, material and quality.'
Projectors reflect such real-time progress reports, which are further broken down to display efficiency per operator/shift/department – providing a motivational tool to monitor and reward operators/departments that 'go the extra mile'.
'Between shifts, an announcement on the factory PA system reveals whether we've achieved our targets or whether we've fallen short, and this information is displayed through the company mascot, Jabula,' Brian explains.
Each day, results are collated and analysed, in order to identify and address potential problems and to implement any necessary corrective action.
'Initially, the results were fairly alarming,' Brian admits, 'and we had to work hard to get as lean and mean as possible. But, ultimately, through streamlining various operations, we've achieved an increase in our production and waste efficiency and an improvement in our turnaround times, the benefit of which we're able to pass on to customers and employees alike,' he reports happily.
Jabula – the essence of Ferroprint! 
MEET Jabula – a Zulu word that means 'you are happy'. This is the very essence of Ferroprint and what everybody strives for – to ensure that customers, colleagues, suppliers and the environment are completely happy!
However, Jabula is more than just a mascot, he's at the heart of the company's ethos, supported by measuring and monitoring systems, a continual 'open door' policy, and incentive programmes for staff.
As MD Jeremy Ferrow remarks: 'We believe that communication is the key to the success of any business. At Ferroprint Jabula encourages all staff to provide feedback and input in the running of our business, thus making the staff, our customers, our suppliers and the environment happy, as new ideas are continually generated!'
UTi Sun Couriers enjoys an exceptional relationship with Ferroprint extending over ten years. We consider Ferroprint to be one of our Top 20 customers. We operate an in-house dispatch assistance site based at Ferroprint's premises and always find the staff very friendly and efficient. We recently participated in their Soccer Day and Clean Up the Environment day – two worthwhile initiatives. George van der Merwe, divisional director, KZN and Eastern Cape, UTi Sun Couriers
Commited to the environment
MEETING the many different requirements of a range of highly diverse customers is what it's all about at Ferroprint. And apart from ISO 9001, GS1  and HACCP certification, the achievement of ISO 14001 environmental certification is yet another string to the Ferroprint bow.
So far, Ferroprint is the only self-adhesive label printer in South Africa to have attained this standard, and the only flexographic printing company in South Africa to have all three certificates. The company is also an accredited Primary Packaging Printer (which means it's approved to print products that come into direct contact with food).
'At the end of the day, all these processes have one objective – to ensure the highest possible quality labels and other products for our customers,' comments MD, Jeremy Ferrow.
'We're totally committed to our environment, and have projects running with both customers and suppliers to ensure we achieve our objectives. Our environment is our future,' Jeremy states emphatically.
Quality, environmental matters and training all go hand in hand, affecting every member of staff from the shop floor right up to the directors.
An environmental management system is a systematic approach used by Ferroprint as a 'tool' to gain awareness of the interactions that products and activities have with the environment and to achieve and improve the desired level of environmental performance. As part of this system, all new staff members undertake a training programme as part of their induction procedure, to make sure they're totally aware of the company's commitment to the environment.
And some final words from the staff
'The market share acquired, phenomenal growth experienced, exceptional lead times and finest print quality achieved all bear testimony to a truly passionate, innovative and driven team of winners, who pride themselves on their unwavering commitment to delivering customer objectives, meeting market demands and stretching entrepreneurial horizons. The continued spirit of "out of the box" vision and "can do" attitude of the Ferro team bodes well for continued market growth and success.' Malcolm Penn, divisional manager, shrink sleeve solutions
'I don't only work for a cutting-edge printing company, I belong to a family of pioneers, and we explore frontiers beyond the cutting-edge.' Wayne Richmond, general manager, Ferroprint Suzhou, China
'The pleasure with working for a company like Ferroprint is the continued lateral thinking and "can do" attitude.' Vanessa Driman, national key accounts manager
'I enjoy working for Ferroprint because it's a proactive, innovative, close-knit company! And I love the "can do" attitude!' Samantha Anderson, Film & Lidding Specialist
'I'm especially proud of being part of such a dynamic and forward moving technology driven company. Our ground-breaking systems and ideas allow us to be the forerunners in the market, utilising our cutting-edge technology to produce superior quality products and services. As an IT specialist I am proud to be part of the new frontier which is label printing!' Hein van Heerden, IT manager
'At Ferroprint, we believe our customers are a partnership in our business, and this leads to healthy relationship building. The Ferroprint commitment to customer satisfaction is world class!' Nadine Snelling, Eastern Cape regional manager
'It was a pleasure to work at Ferroprint from day one. Though many challenges are faced by our department, we're able to work as a team and enhance systems and standards. The spirit of enthusiasm and hard work is evident in each department. This in turn enriches each of us to give a little of ourselves to ensure that our company is "world class".' Jessica Munsami, internal sales manager
'As work takes up most of a person's day, I'm grateful that my job at Ferroprint honestly inspires me and is so thoroughly rewarding.' Lizelle van Schoor, sales consultant
'I love Ferroprint because the company has given me lots of opportunities to grow up; and I'm happy with the way my manager (Jessica Munsami) is teaching me my job. I'm proud of my job.' Thandi Ngema, internal sales co-ordinator
'I enjoy working at Ferroprint because we have a competitive team!' Brenda Govender, internal sales co-ordinator
'I like working for Ferroprint because I have a great manager (Jessica Munsami) who inspires me and always does things right the first time. My colleagues are more like family than friends.' Leisha Chetty, internal sales co-ordinator